Window Guards Notice sign (Aluminium signs 8.5x9)-El blanco Line
Window Guards Notice sign (Aluminium signs 8.5x9)-El blanco Line
Window Guards NYC sign (Aluminium 8.5 x 9)
"THE LAW REQUIRED THAT THE TENANT GIVE NOTICE TO LANDLORD IF A CHILD 10 YEARS OR YOUNGER LIVES IN OR VISITS YOUR APARTMENT. YOUR LANDLORD IS REQUIRED BY LAW TO INSTALL WINDOW GUARDS IN YOUR APARTMENT. YOU MAY ASK TO HAVE WINDOW GUARDS INSTALLED AT ANY TIME" SIGN
Aluminum Sign
Size  8.5 x 9 Inch 
Sign have one hole in each coroner
Sign Thickness 0.023 of an inch
For properties with three or more units, New York City law requires that building owners install and maintain window guards for apartments where a child age 10 years or younger lives. Every window in the apartment, except those leading to fire escapes, must have window guards. These metal or aluminum devices are designed to prevent children from falling out of windows.
NYC window guards and legal requirement form 
The nyc window guard law has several requirements:
Notices: When tenants sign a lease, the landlord must provide a window guard notice form within the first 30 days of occupancy. In addition, building owners must send an annual notice regarding window guards between January 1 and January 16. Tenants are required to complete and return the form to notify the landlord if a child age 10 years or younger lives in the apartment. These forms can also be used to request the guards for any other reason, such as to protect visiting children or for personal safety concerns.
Installation: Where required or requested, landlords must install window guards on every window in the apartment, even on the first floor, with the exception of windows leading to fire escapes. Window guards must be left off one window in each ground-floor apartment to allow use of the window as an emergency exit. In addition, all public hallway windows must have window guards for buildings with children age 10 years or younger.
Compliance: These metal guards must meet the requirements of the Department of Health and Mental Hygiene, which has approved many types of these devices. Approved window guards are a minimum of 15 inches tall, with horizontal bars spaced 4.5 inches apart. The New York City Department of Health maintains a list of approved devices online. Guards and any other limiting devices should be appropriate to the window type (e.g., double hung, casement, sliding, etc.).
Building owners and landlords are responsible for installation and maintenance of these protective devices. For co-operative buildings, the responsibility remains with management. For owners in condominium buildings, the individual unit owners are responsible for installing and maintaining the guards. (Some condo managers do install them, but they're still the owner's responsibility.) Even in condo buildings, management is still responsible for guards in the hallway.
it is required to notify tenant about the Windows guards NYC law. we at hpd signs carry a sign  that it is highly recommended to put in the hallway of a building to avoid legal issues……for tenant complains
NYC window Guard notice - watch a movie
Shipping and Handling Cost:
Our Shipping is fixed whether you buy 1 item or 20 items (We Ship within USA Only)  - do not miss this opportunity to buy all signs needed at no additional shipping cost.
Sales Tax:
We are required to collect sales tax on any product sold on this site and shipped to an address in New York. The sales tax is 8.875 percent.
DISCLAIMER to comply with the New York City Consumer Protection Law which applies to all businesses operating in New York City: HPDsigns.com is a small family-owned and family-operated Brooklyn-based business. HPDsigns.com is not a City of New York store nor are the website, products or services affiliated with the City of New York or any agency of the City of New York. HPDsigns.com itself, its business, website, products, services, or any hyperlinks from its website are not sponsored by, approved by, affiliated with, endorsed by, or connected to the City of New York or any agency of the City of New York, including but not limited to HPD, DOB, DOT, DSNY, FDNY directly or by implication
The requirements for sign content are determined by intended use and by applicable regulation. The BUYER is responsible for determining the appropriate content for a sign or package of signs.  HPDSigns.com makes no warranty or representation of suitability of a sign for any specific application. IT IS THE CUSTOMER'S RESPONSIBILITY TO ENSURE THAT THE SIGNS THE CUSTOMER ORDERS ARE IN COMPLIANCE WITH ALL STATE, FEDERAL, LOCAL, AND MUNICIPAL LAWS. Please review terms and conditions prior to purchase. 


For more information about what is required, see the laws that are referenced and the rules applicable to your city and state. This page is for informational purposes only and is not intended as legal advice or as a statement of law. You may wish to consult with an attorney.

 Find us on:
Google Map , YELP , Bing Map, MapQuest , Yellow Pages , Google Plus, Amazon.com, Buildingsigns.com , HPDSIGNS.NYC, Facebook, HPDSIGNS (@hpdsigns) • Instagram photos and videos
At HPDsigns we specialize with all NYC Department of Building signage (DOB), NYC Housing Preservation and Development signage (HPD) and NYC Department of Transportation signage (DOT). Our objective is to provide property managers, construction site operators and building owners with signs required by NYC agencies and NYC Fire Department, aluminum signs, warnings and notices for quick and heavy duty installation, aluminum signs to install in buildings with proper HPD designation, as well as No Storage in Hallway Signs, required building  signs,  THE LAW REQUIRED THAT THE TENANT GIVE NOTICE TO LANDLORD IF A CHILD 10 YEARS OR YOUNGER LIVES IN OR VISITS YOUR APARTMENT. YOUR LANDLORD IS REQUIRED BY LAW TO INSTALL WINDOW GUARDS IN YOUR APARTMENT. YOU MAY ASK TO HAVE WINDOW GUARDS INSTALLED AT ANY TIME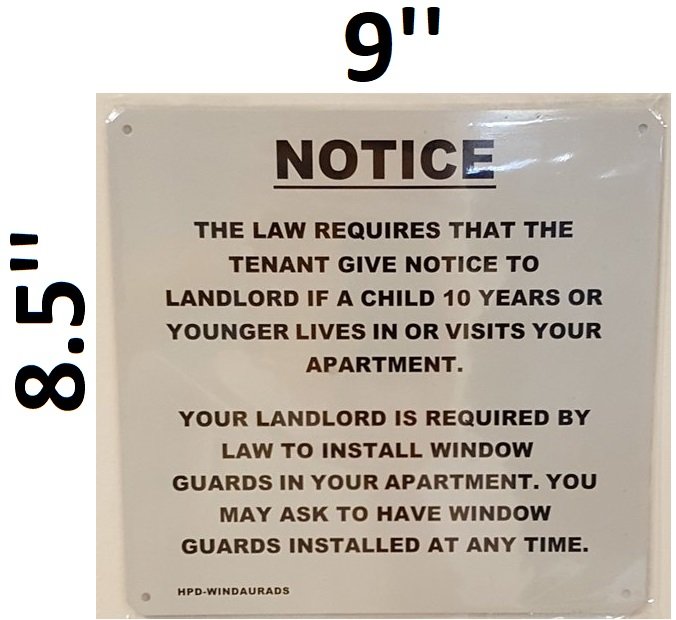 This is an aluminum "FREE WINDOW GUARDS FOR TENANTS WITH CHILDREN" SIGN with holes for HEAVY DUTY installation. In NYC use/post sign to inform tenants/owners/guests/officers of owner and landlord duties regarding the installation of window guards in tenancies and rental properties with tenants with children 10 years or younger present in facility with proper HPD designation and aluminum signs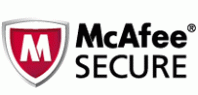 HPD  signs is a McAfee Secure Site!
We are proud to announce that HPD  signs is a certified McAfee Secure Site. Every day it passes daily extensive security tests. HPD  signs values the protection of consumers. HPD  signs is Not a Compromised Site**. HPD  signs does not employ intended viruses, spyware, and other online threats. HPD  signs is Not a Phishing Site and is Not an Attack Site* with Malware or Malicious Links. Valid SSL Certificate tests. HPD  signs is a certified McAfee Secure website. Every day HPD  signs passes intensive, Daily security scans, which only allow for the use of The McAfee SECURE™ Trustmark on HPD  signs. Every day HPD  signs passes intensive security tests regarding possible personal information access, links to dangerous sites, phishing, and other online dangers. Every day the appearance of The McAfee SECURE™ Trustmark at HPD  signs certifies that HPD  signs passes intensive daily security tests.
*Hackers create attack sites to intentionally host and distribute malicious software.
**Compromised sites are legitimate sites that are hacked to include content from attack sites.
HPD  signs is a McAfee Secure Site!
HPD  signs passes daily security tests!