HPD REQUIRED SIGNS AND NOTICES NEW YORK CITY.
Below you will find the list and Gallery of NYC required signs and Notices for New York City buildings.  
1) HPD buildings registration number
Serial Number Signage-A sign containing the serial number assigned to the building by HPD should be posted in the building's entrance hall. The sign should also include the building's street address, and information about the superintendent, janitor, or housekeeper of the building. For full details of what is required for this sign, see §25-81 of Chapter 25 of Title 28 of the Rules of the City of New York.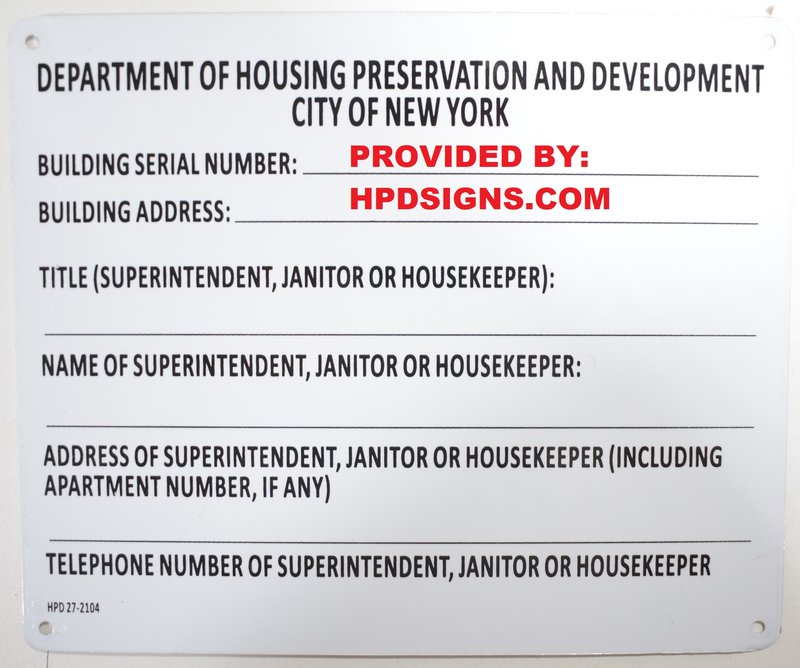 2) HPD Key to the Heating system Sign -27-2104
Post name and location of person with keys to boiler room-An owner must post the name and location of the person with the key to the boiler room on notices approved by HPD. One notice should be posted conspicuously in the lobby and another should be posted on the entrance door of the boiler room.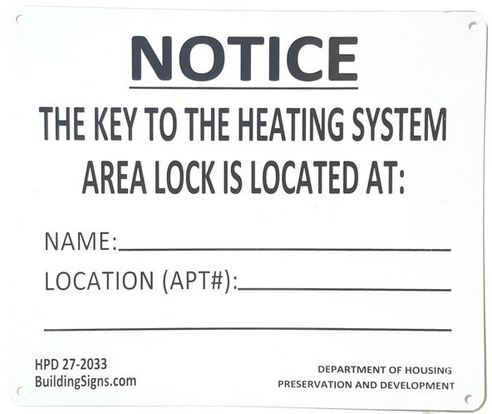 3) Certificate of Inspection frame 
Post certificate of inspection visits in frame-The owner should provide a frame that is properly able to accommodate a 6" x 9" inspection visit card. The frame should be posted 48-62 inches above the floor. If a mailbox exists, the frame should be posted at or near the mailbox. If there is no mailbox in the vestibule, the owner should select a suitable accessible location in the vestibule or entrance way of the building for the frame. The HPD inspector who visits the premises will provide the inspection card. If the top portion of the card is not completed, the owner must fill in top portion of card.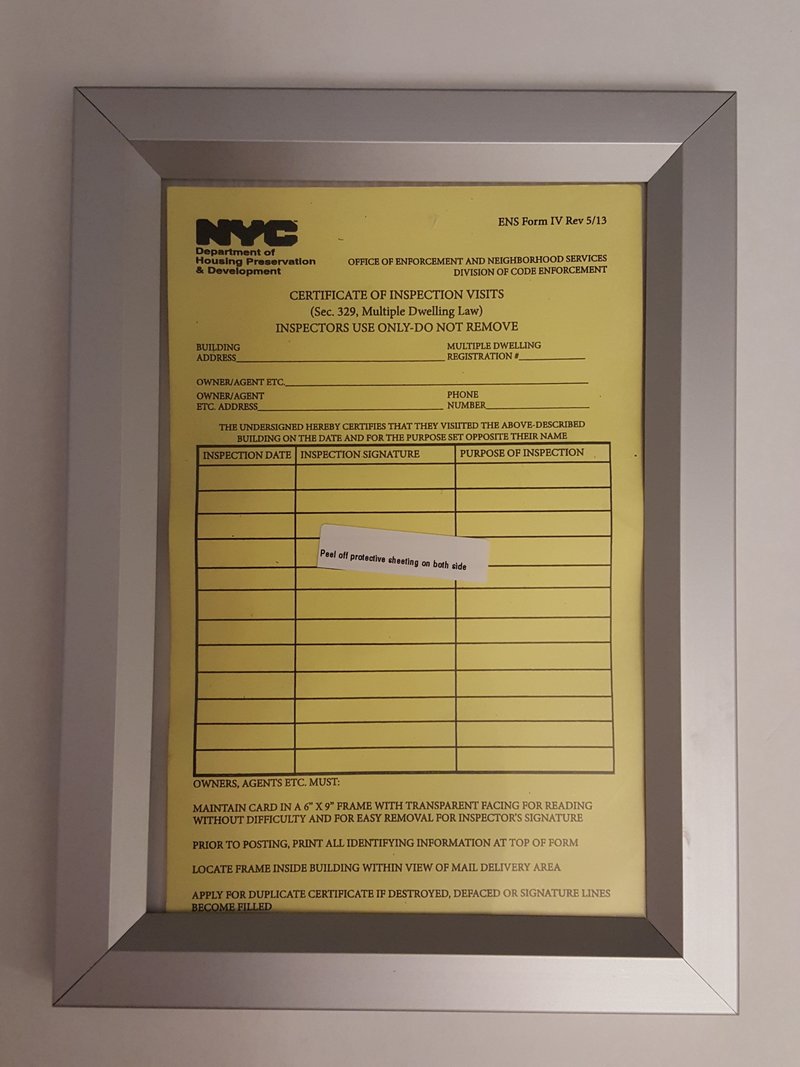 4) Post Janitor name and address-HMC 27-2053
Post sign with the name of the  janitor or housekeeper with their address, apartment number and telephone number at entrance of building.

5) HPD Smoke detector required sign 
Post notice regarding smoke detectors-Post smoke detector requirements in a form approved by HPD at or near mailboxes. NEW SIGN ARE AVAILABLE 10-2017 MORE INFO CLICK HERE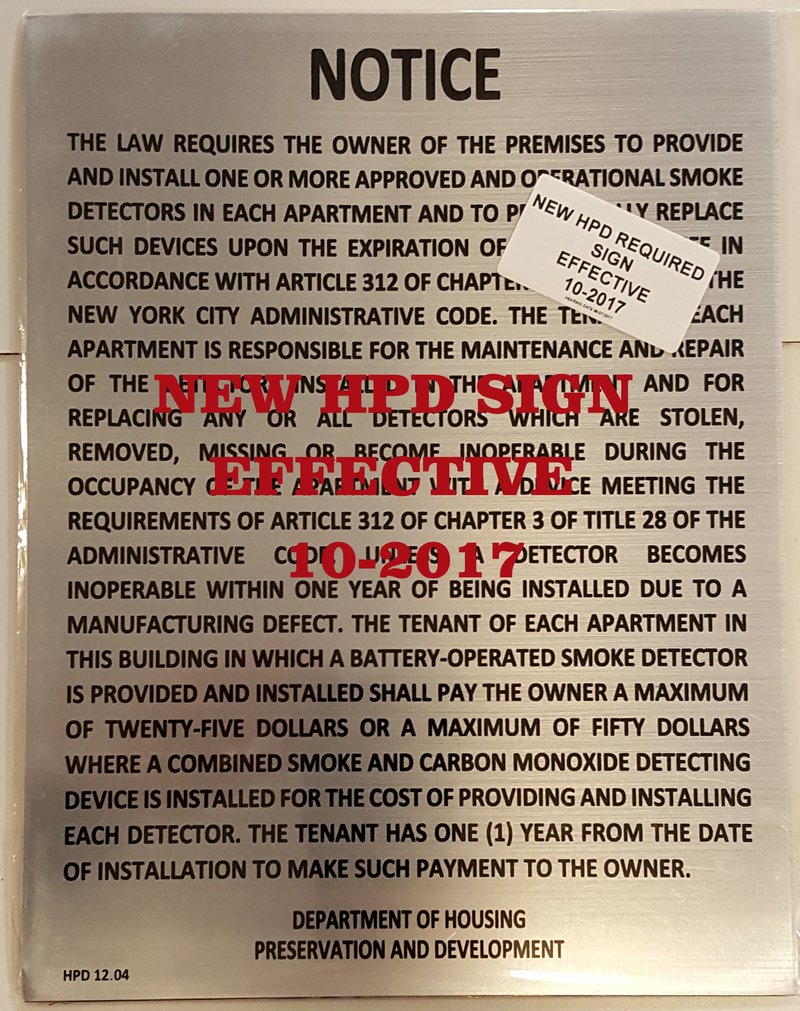 6) HPD Carbon Monoxide sign 
Post carbon monoxide detector notice-Post a carbon monoxide detecting device requirement notice in a form approved by HPD in a common area. NEW SIGN ARE AVAILABLE 10-2017 - MORE INFO CLICK HERE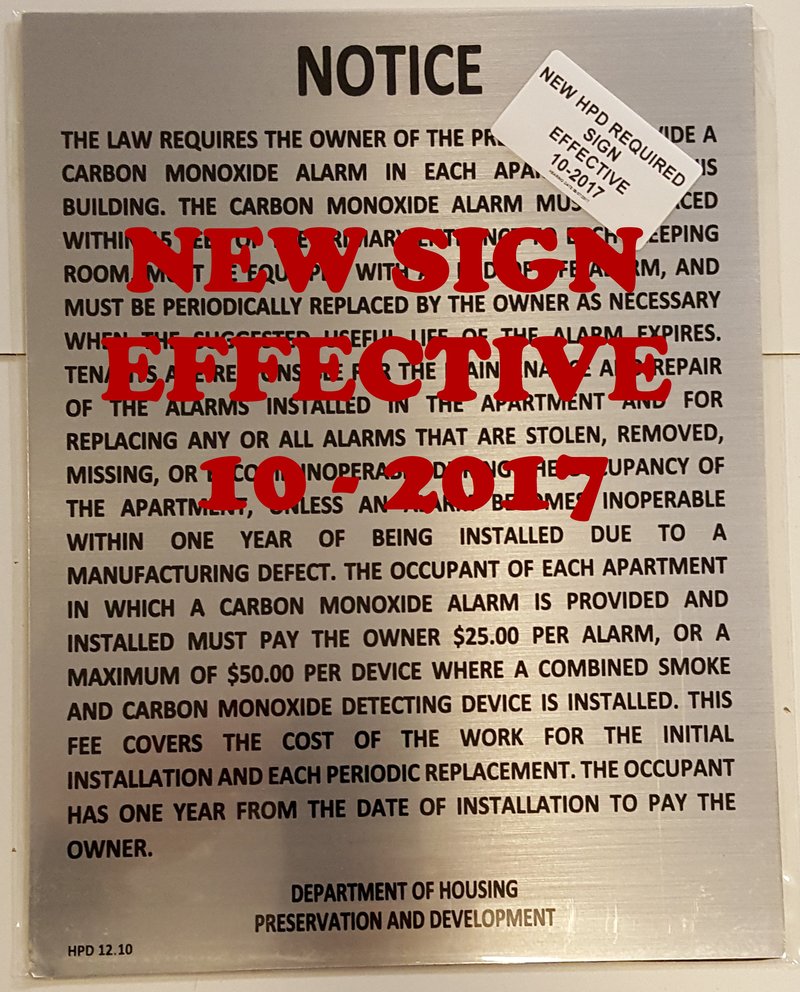 7) HPD Gas Notice Sign 
Post gas leak notice-Local Law 153 of 2016 requires the owner of a dwelling to provide tenants with a notice regarding procedures that should be followed when a gas leak is suspected. The information must be provided by: delivering such notice to each tenant and prospective tenant of such dwelling (all tenant-occupied units, including 1- and 2- family homes) with the lease or lease renewal form for such tenant or prospective tenant AND posting and maintaining a notice in a common area of the building Attached is a sample notice for use by property owners and agents beginning immediately. Until HPD finalizes its rules relating to Local Law 153, owners should post  of the sample notice in common areas and provide it to tenants. HPD's website will be updated with the final notice language and requirements when HPD rules related to this Local Law are final. Failure to post and to provide the appropriate notice can result in a violation being issued.NEW SIGN EFFECTIVE AVAILABLE 10-2017 MORE INFO CLICK HERE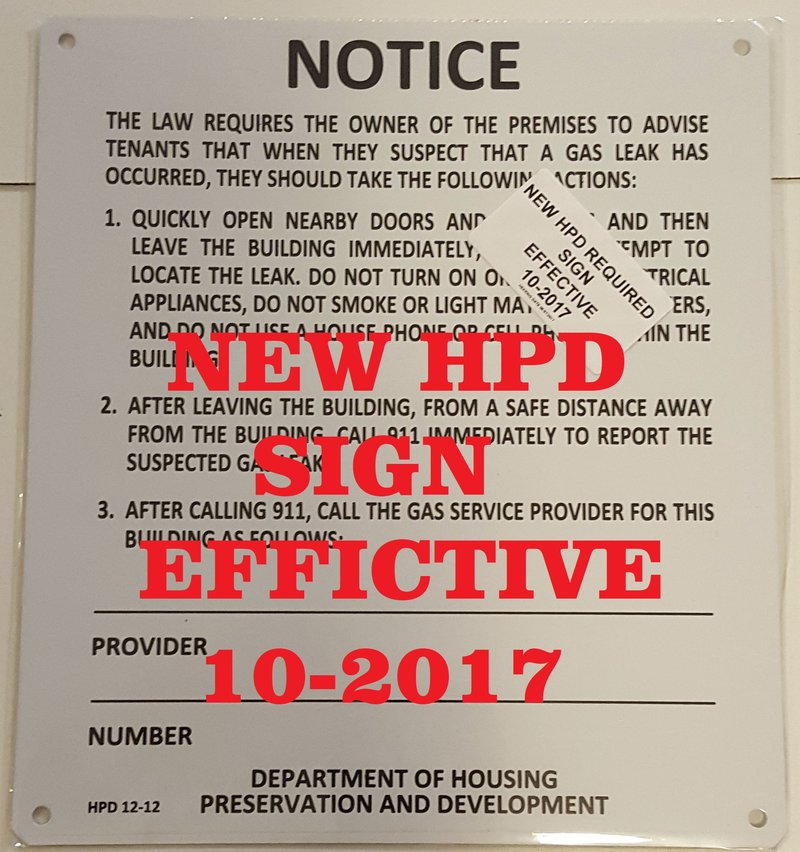 8) HPD Garbage collection sign
Post sign for garbage collection-If there is no 24 hour dumbwaiter service an owner must post a sign in the building lobby indicating the current hours and method of garbage collection. The sign should be enclosed in plastic or in a frame to prevent vandalism or tampering.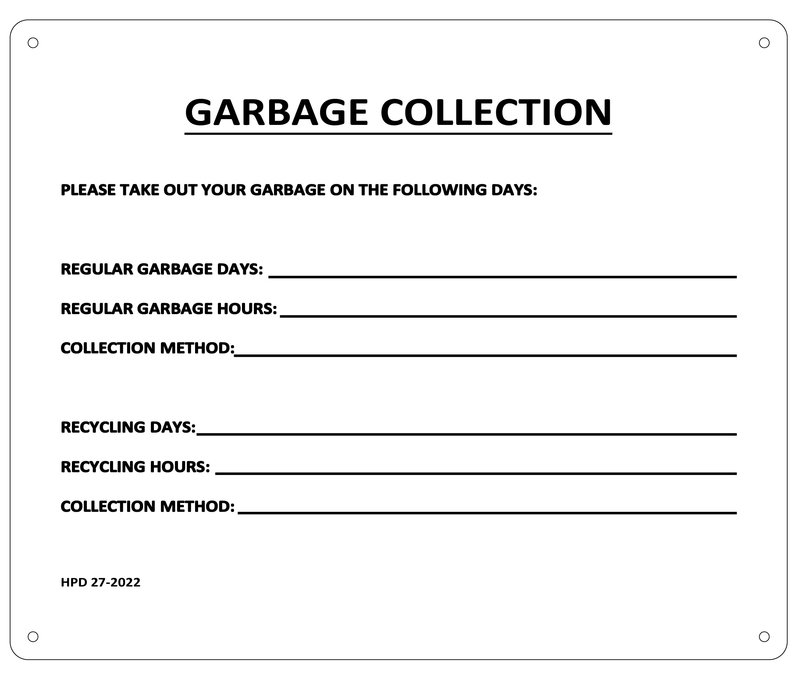 9) Floor Number sign
Post floor sign-The owner must paint or post a sign indicating the floor number on each floor


10) HPD housing information guide Sign 
Housing Information Guide Notice-Post a notice about the availability of a housing information guide for tenants and owners in a conspicuous place within view of the area in the multiple dwelling to which mail is delivered.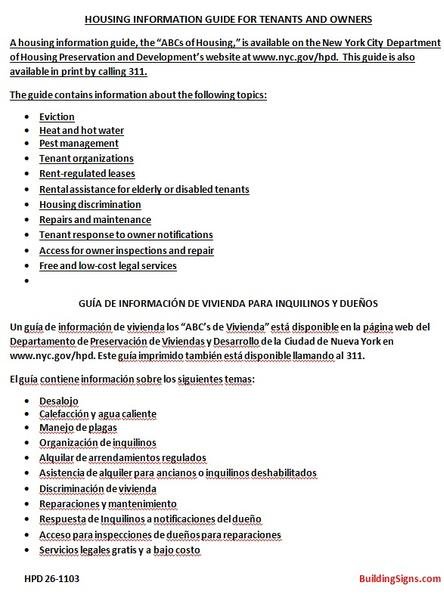 11) HPD Disaster Response Sign 
Disaster Response Signage-Owners of residential dwellings where at least one unit is not occupied by the owner are required to post a temporary notice with all of the emergency information contained in HPD's sample notice in the common area of the building.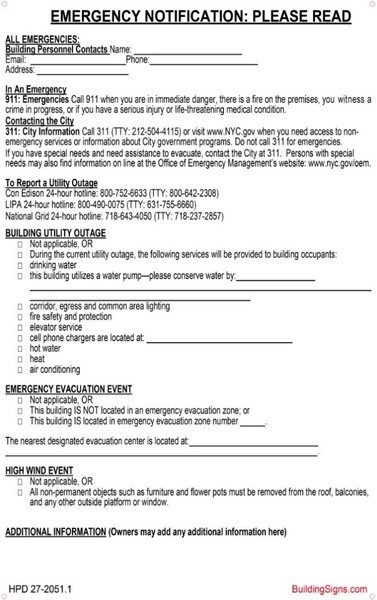 12) Street Number Sign 
Post street number on dwelling-The owner must post and maintain a street number on the front of building. The street number must be visible from the sidewalk.

13) hpd combined sign 
The new HPD combined sign allow owners to post one sign that include the follwing:
1) gas Leak Notice
2) Smoke detector sign 
3) Carbon Monoxide sign
This rule is in affect as of 10-18-2017. All combined signs available with HPDsigns.com
NEW SIGN EFFECTIVE AVAILABLE 10-2017 MORE INFO CLICK HERE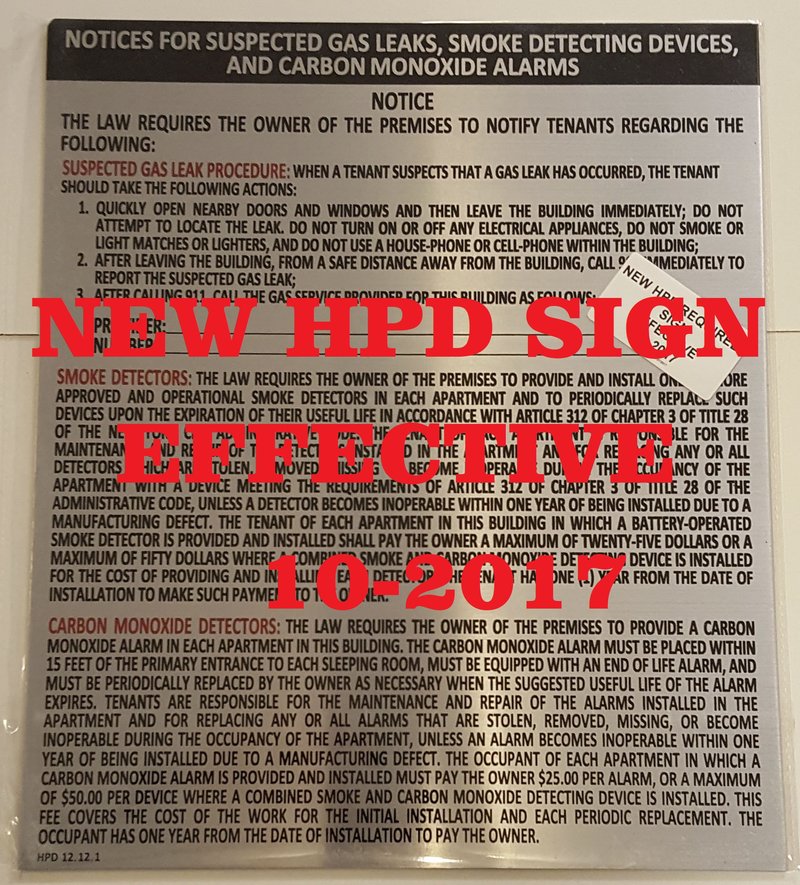 13) FIRE SAFETY PLAN-
Effective in 2000, every residential building -- including cooperatives and condominiums -- must prepare a fire safety plan, following a model prepared by the Fire Department. This plan must be distributed annually to all the occupants and service employees of the building either during the first week of October, which is Fire Safety Month or with the window guard notice in January. The plan must also be distributed to every new building occupant and every new building employee. It must be revised and redistributed within 60 days of any material change in building conditions affecting it. Records of distribution must be maintained; acceptable documentation includes a U.S Postal Service certificate of mailing or, for hand delivery, dated and signed receipts. The Fire Department may inspect these building records at any time and should be presented with copies of the last five annual fire safety plans. 
The following Fire Safety Notice shall be posted in the entrance of the building.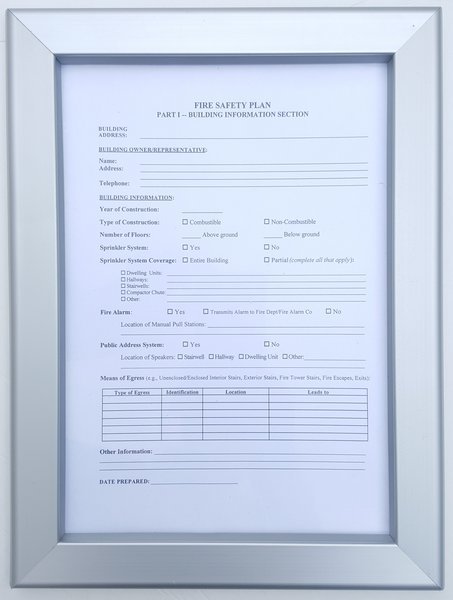 Watch A Movie About HPD NYC required signs: 
Find us on:
Google Map , YELP , Bing Map, MapQuest , Yellow Pages , Google Plus, Amazon.com, Buildingsigns.com , HPDSIGNS.NYC
For more information about what is required, see the laws that are referenced and the Rules of the City of New York. This page is for informational purposes only and is not intended as legal advice or as a statement of the law. You may wish to consult with an attorney.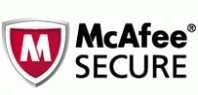 We are MacAfee Secure Site!
We are proud to inform you that our www.hpdsigns.com is a certified MacAfee secure site and has passed extensive security test which protect consumers from Valid SSL Certificate , Malware or Malicious Links, Not a Phishing Site, Not an Attack Site * , Not a Compromised Site**  viruses, spyware,  and other online threats. The MacAfee SECURE™  Trustmark only appears when the website has passed our intensive, daily security scan. MacAfee test for possible personal information access, links to dangerous sites, phishing, and other online dangers.
*Hackers create attack sites to intentionally host and distribute malicious software.
**Compromised sites are legitimate sites that are hacked to include content from attack sites.